Hancom Malang Malang Toki 2
Toki H2 is a next-generation, AI-powered
smart home service robot that provides a variety of services,
including education, entertainment, child care, and crime prevention.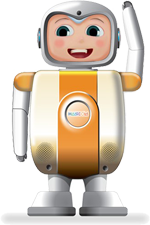 Function
01

Video Call

Convenient video calls through a robot face

02

Coding Education Service

Robot coding education using exclusive mobileapplication: speaking, expressing emotions, alarms, videoplaying, motions, etc.

03

AI Conversation Service

Conversations in Korean and English using AI

04

Taking a photo

Make and share own photo album
Product Specifications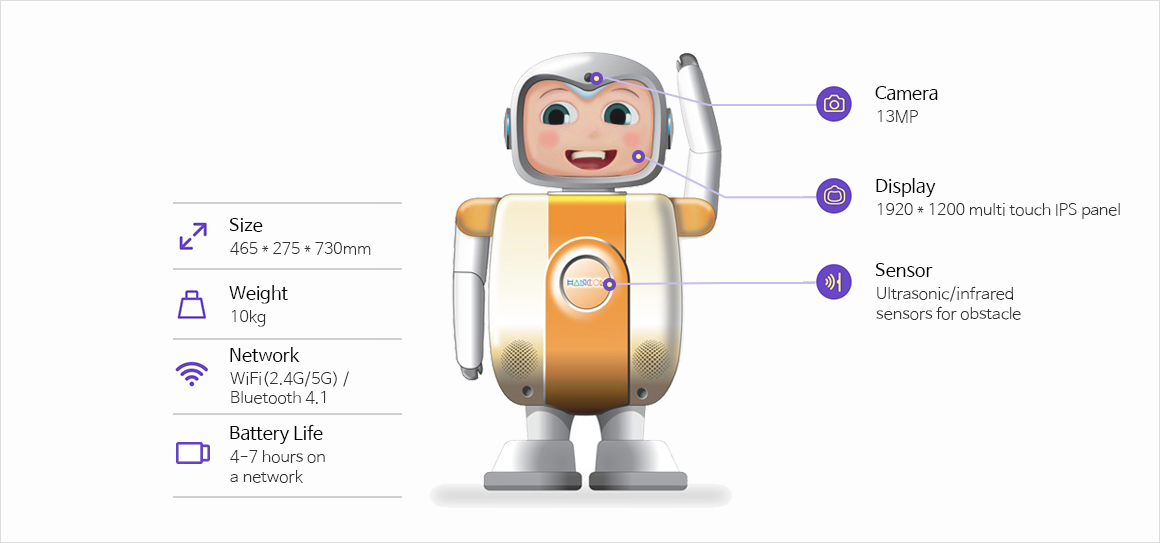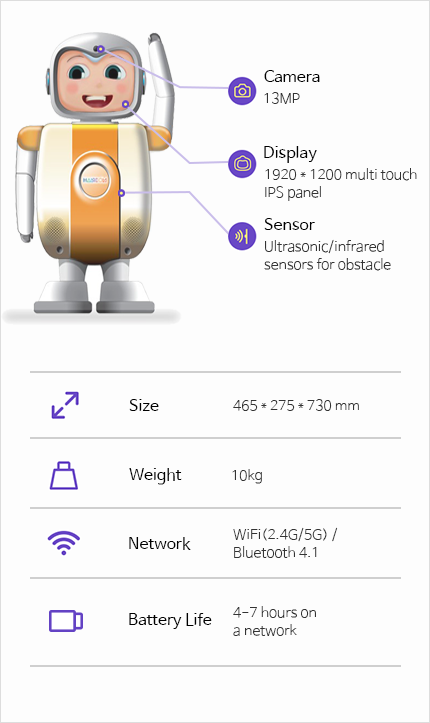 Use case
Personal Assistant Service
Provides wide range of intelligent assistant service using simultaneous AI-based facial and object recognition.
Home Security Service
Sounds an alarm and sends text alerts to a family member once detecting strangers.
Family Voice-driven Storytelling Service
Provides storytelling in a family voice using voice synthesis technology.
Cognitive Q&A Service
Understands the meaning and context of questions and gives appropriate answers by natural language question generation and answering using Machine Reading Comprehension(MRC) technology.
Home IoT Service
Controls home IoT devices based on voice commands.
Memory Sharing Service
Reminds family of their important moments and precious memories by managing family members' day-to-day data, including photos, videos, and messages, using an AI service platform.
Entertainment Service
Provides the personalized entertainment service such as games, music, and dance to each family member.
Educational Content Service with Robot Motion
Provides fun learning content for children by speaking and dancing in collaboration with various educational content providers.